About Us
Yellow River is a Chinese takeaway in London. Why don't you try our Yaki Soba with Beef or Gai Pad Gratiem Prik Thai with Chicken?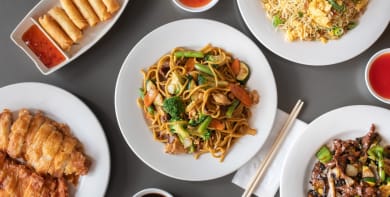 Reviews
153 reviews
Karima
"The food was delicious, fresh and portion sizes good."
19/02/2021
Dave
"Great food, but remonstrated with restaurant that food hadn't been delivered at 21:55pm as stated (even on receipt). They said delivery time was 22:55pm? 🤔 we got food at 22:35pm"
14/02/2021
Honey
"Absolutely delicious food, decent portion size and great value for money. It arrived quickly and was perfect temperature. I will definitely order from here again."
03/02/2021
ROSS
"The duck is really nice"
31/01/2021
Menu
Thai Green Curry with Tofu and Vegetables
£6.00
Thai Red Curry with Tofu and Vegetables
£6.00
Thai Panang Curry with Tofu and Vegetables
£6.00
Thai Kaeng Pa Curry with Tofu Vegetables
£6.00
Gai Pad Gratiem Prik Thai with Vegetables
Thai Style-fry with Fish, Oyster and Soy Sauce
£6.00
Pad Nam Mun Hoi with Tofu & Vegetables
Thai Style Stir-fry with Oyster Sauce
£6.00
Pad Krawpow with Tofu and Mint
Thai Style Stir-Fry with minced tofu and mint
£6.00
Pad Priew Wan with Tofu and Vegetables (
Thai Style Stir-Fry with Sweet and Sour Sauce
£6.00
Chicken and Broccoli with Oyster Sauce
£5.50
Chicken and Broccoli with Black Bean Sauce
£5.50
Chicken and Broccoli with Garlic Sauce
£5.50
Chicken and Broccoli with Hot Chilli Sauce
£5.50
Chicken and Broccoli with Sweet and Sour Sauce
£5.50
Chicken and Mushroom with Oyster Sauce
£5.50
Chicken and Mushroom with Black Bean Sauce
£5.50
Chicken and Mushroom with Garlic Sauce
£5.50
Chicken and Mushroom with Sweet and Sour Sauce
£5.50
Chicken with Ginger and Spring Onion
£5.50
Chicken with Mixed Vegetables
£5.50
Chicken with Bamboo Shoots and Chinese Mushrooms
£5.50
Chicken Ball with sweet and sour sauce
£5.50
Fried Crispy Chicken in Satay Sauce
£5.50
Fried Crispy Chicken in Lemon Sauce
£5.50
Fried Crispy Chicken in Hot & Spicy Sauce
£5.50
Crispy Shredded Beef in Salt and Chilli (Dry)
£5.50
Crispy Shredded Beef in Salt and Chilli
£5.50
Beef and Chilli with Black Bean Sauce
£5.50
Beef and Mixed Vegetables
£5.50
Beef with Hot Chilli Sauce
£5.50
Beef with Ginger and Spring Onion
£5.50
Beef with Bamboo Shoots and Chinese Mushrooms
£5.50
Duck and Vegetables with Plum Sauce
£6.00
Duck and Vegetables with Hoi Sin Sauce
£6.00
Duck and Vegetables with Oyster Sauce
£6.00
Duck and Vegetables with Sweet and Sour Sauce
£6.00
Duck and Vegetables with Ginger and Spring Onion
£6.00
Duck with Bamboo Shoots and Chinese Mushrooms
£6.00
King Prawn with Bamboo Shoots and Chinese Mushroom
King Prawn with Bamboo Shoots and Chinese Mushrooms
£6.80
King Prawn and Vegetables with Sweet Chilli Sauce
£6.80
King Prawn and Vegetables with Garlic Sauce
£6.80
King Prawn and Vegetables with Oyster Sauce
£6.80
King Prawn & Vegetables with Sweet and Sour Sauce
King Prawn and Vegetables with Sweet and Sour Sauce
£6.80
King Prawn & Vegetables with Ginger & Spring
King Prawn and Vegetables with Ginger and Spring Onion
£6.80
King Prawn and Vegetables with Mushrooms
£6.80
King Prawn and Vegetables with Broccoli
£6.80
Seafood with Ginger and Spring Onion
£6.80
Seafood and Mixed Vegetables
£6.80
Thai Green Curry with Chicken
£6.80
Thai Green Curry with Beef
£6.80
Thai Green Curry with King Prawn
£7.50
Thai Green Curry with Duck
£7.00
Thai Red Curry with Chicken
£6.80
Thai Red Curry with King Prawn
£7.50
Thai Panang Curry with Chicken
£6.80
Thai Panang Curry with Beef
£6.80
Thai Panang Curry with King Prawn
£7.50
Thai Panang Curry with Duck
£7.00
Thai Kaeng Pa Curry with Chicken
£6.80
Thai Kaeng Pa Curry with Beef
£6.80
Thai Kaeng Pa Curry with King Prawn
£7.50
Thai Kaeng Pa Curry with Duck
£7.00
Gai Pad Gratiem Prik Thai with Chicken
Thai Style-fry with Fish, Oyster and Soy Sauce
£6.80
Gai Pad Gratiem Prik Thai with Beef
£6.80
Gai Pad Gratiem Prik Thai with King Prawn
£7.50
Gai Pad Gratiem Prik Thai with Duck
£7.00
Pad Nam Mun Hoi with Chicken
Thai Style Stir-fry with Oyster Sauce
£6.80
Pad Nam Mun Hoi with Beef
£6.80
Pad Nam Mun Hoi with King Prawn
£7.50
Pad Nam Mun Hoi with Duck
£7.00
Pad Krawpow with Chicken
Thai Style Stir-Fry with minced tofu and mint
£6.80
Pad Krawpow with King Prawn
£7.50
Pad Priew Wan with Chicken
Thai Style Stir-Fry with Sweet and Sour Sauce
£6.80
Pad Priew Wan with King Prawn
£7.50
Tofu and Mixed Vegetables in Black Bean Sauce
£5.50
Tofu and Mixed Vegetables in Sweet & Sour Sauce
£5.50
Tofu and Mixed Vegetables in Hot Chilli Sauce
£5.50
Stir Fried Sesame Broccoli and Vegetables
£5.50
Chicken and Broccoli with Black Bean Sauce
£5.50
Chicken and Broccoli with Sweet and Sour Sauce
£5.50
Beef with Bamboo Shoots and Chinese Mushrooms
£5.50
Beef and Black Bean Sauce
£5.50
Beef and Mixed Vegetables
£5.50
Thai Green Curry with Vegetables and Tofu
£5.50
Thai Green Curry with Chicken
£5.50
Thai Green Curry with Beef
£5.50
Pad Krawpow with Chicken
Thai Style Stir-Fry with minced tofu and mint
£5.50
Pad Krawpow with Vegetables and Tofu
£5.50
Pad Nam Mun Hoi with Chicken
Thai Style Stir-fry with Oyster Sauce
£5.50
Pad Nam Mun Hoi with Beef
£5.50
Duck and Vegetables with Hoi Sin Sauce
£5.50
Chicken and Sweetcorn Soup
£3.50
Crabmeat and Sweetcorn Soup
£3.50
Chicken and Mushroom Soup
£3.50
Mushroom and Tofu Tom Yum Soup
£3.50
Pad Thai with Tofu and Vegetables
£6.00
Pad Thai with King Prawns
£6.80
Pad Mee with Tofu and Vegetables
£6.00
Khao Ob Kati
Steamed Coconut Rice
£3.00
Khao Pad with King Prawns
£6.80
Tofu and Mixed Vegetables in Black Bean Sauce
£4.50
Tofu and Mixed Vegetables in Sweet and Sour Sauce
£4.50
Tofu and Mixed Vegetables in Hot Chilli Sauce
£4.50
Tofu and Mixed Vegetables in Satay Sauce
£4.50
Stir Fried Sesame Broccoli and Vegetables
£4.50
Yaki Soba with Vegetables With Spice
£6.50
Yaki Soba with Vegetables Without Spice
£6.50
Yaki Soba with Chicken With Spice
£6.80
Yaki Soba with Chicken Without Spice
£6.80
Yaki Soba with Beef With Spice
£6.80
Yaki Soba with Beef Without Spice
£6.80
Yaki Soba with King Prawns With Spice
£7.30
Yaki Soba with King Prawns Without Spice
£7.30
Yaki Soba with Seafood With Spice
£7.30
Yaki Soba with Seafood Without Spice
£7.30
Yaki Udon with Vegetables With Spice
£6.50
Yaki Udon with Vegetables Without Spice
£6.50
Yaki Udon with Chicken With Spice
£6.80
Yaki Udon with Chicken Without Spice
£6.80
Yaki Udon with Beef With Spice
£6.80
Yaki Udon with Beef Without Spice
£6.80
Yaki Udon with King Prawns With Spice
£7.30
Yaki Udon with King Prawns Without Spice
£7.30
Yaki Udon with Seafood With Spice
£7.30
Yaki Udon with Seafood Without Spice
£7.30
Teriyaki Chicken with Noodles
£6.80
Teriyaki Beef with Noodles
£6.80
Mixed Vegetable Chow Mein
£5.00
Mixed Vegetable Singapore Chow Mein
£5.00
Singapore Chow Mein with Chicken
£6.00
Singapore Chow Mein with Prawns
£6.00
Singapore Chow Mein with Beef
£6.00
Singapore Fried Rice
Chicken & prawn
£6.00
Mixed Vegetable Fried Rice
£5.00
Mixed Vegetable and Tofu Fried Rice
£5.50
Spicy Thai Prawn Crackers
£1.50
Large Duck Spring Rolls (2)
£3.80
Large Chicken Spring Rolls (2)
£3.80
Mini Vegetable Spring Rolls (10)
£2.50
Sesame Prawn on Toast (6)
£4.50
Grilled Chicken Dumplings with Ginger Sauce (6)
£3.80
Satay Gai (4)
Marinated chicken strips skewered served with satay sauce
£4.00
Tao Hoo Tod
Crispy Bean Curd served with sweet chilli and ground peanut sauce
£3.50
Spicy Thai Fish Cakes (4)
£4.50
Pla Muk Tod
Thai Style Calamari served with sweet chilli and sour sauce
£3.50
Gai Tod
Deep fried marinated chicken served with chilli and tamarind sauce
£3.50
Salt and Chilli King Prawns
£5.00
Crispy Duck Pancake Rolls (2)
£3.80
Crispy Chicken Pancake Rolls (2)
£3.80
Vegetable and Tofu Pancake Rolls (2)
£3.50
Teriyaki Chicken Skewers (4)
£3.80
Tofu and Vegetable Skewers (4)
£3.50
Seafood Kushi Katsu
Marinated seafood skewers deep fried in breadcrumbs served with teriyaki sauce
£4.50
Yakitori Chicken Skewers (4)
£3.80
Yakitori Tofu and Vegetable Skewers (4)
£3.50
Crispy Aromatic Duck Quarter (6 Pancakes)
Served with Hoi Sin Sauce, Cucumber and Spring Onion
£8.00
Crispy Aromatic Duck Half (12 Pancakes)
Served with Hoi Sin Sauce, Cucumber and Spring Onion
£14.00
Crispy Aromatic Duck Whole (24 Pancakes)
Served with Hoi Sin Sauce, Cucumber and Spring Onion
£25.00
Yum Talay
Authentic Thai Seafood Salad with onion, chillies, garlic and lime dressing
£6.00
Phla Pla Muek
Authentic Thai Squid Salad with chilli and lemon grass
£6.00
Larb Gai
Minced chicken marinated with herbs, lime juice and chilli
£5.50
Nuea Yang
Marinated beef  served with herbs, spice, lime juice, chillies, garlic and spring onion
£5.50
Sweet Chilli & Sesame Beef Salad
£5.50
Tofu & Sesame Salad
Deep fried tofu salad served with sesame dressing
£4.50
Tori Katsu Don with Chicken
Deep fried chicken fillet in breadcrumbs garnished with leeks, onions, mushrooms and egg sauce
£6.80
Gyu Don with Beef
Slices of beef garnished with leeks, onions, mushrooms and egg sauce
£6.50
Teriyaki Chicken with Sushi Rice
£6.80
Teriyaki Beef with Sushi Rice
£6.80
Contact Us
Find Us
166 West Hendon Broadway, London, NW97AA
We deliver to
HA8, N3, NW2, NW4, NW9