About Us
Yellow River is a Chinese takeaway in London. Why don't you try our Yaki Soba with Beef or Gai Pad Gratiem Prik Thai with Chicken?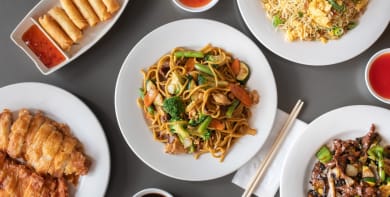 Reviews
165 reviews
Michael
"Food was good quality"
15/05/2020
Gautam
"very good"
17/04/2020
Charley
"The driver was great and helpful. Food was lovely and hot"
09/04/2020
Bushra
"Food is always fantastic and super tasty, best Chinese food in the area!"
08/04/2020
Menu
Thai Green Curry with Tofu & Vegetables
£5.50
Thai Red Curry with Tofu & Vegetables
£5.50
Thai Panang Curry with Tofu & Vegetables
£5.50
Thai Kaeng Pa Curry with Tofu Vegetables
£5.50
Gai Pad Gratiem Prik Thai with Vegetables
Thai style-fry with fish, oyster & soy sauce
£5.50
Pad Nam Mun Hoi with Tofu & Vegetables
Thai style stir-fry with oyster sauce
£5.50
Pad Krawpow with Tofu & Mint
Thai style stir-fry with minced tofu & mint
£5.50
Pad Priew Wan with Tofu & Vegetables
Thai style stir-fry with sweet & sour sauce
£5.50
Chicken & Broccoli with Oyster Sauce
£5.00
Chicken & Broccoli with Black Bean Sauce
£5.00
Chicken & Broccoli with Garlic Sauce
£5.00
Chicken & Broccoli with Hot Chilli Sauce
£5.00
Chicken & Broccoli with Sweet & Sour Sauce
£5.00
Chicken & Mushroom with Oyster Sauce
£5.00
Chicken & Mushroom with Black Bean Sauce
£5.00
Chicken & Mushroom with Garlic Sauce
£5.00
Chicken & Mushroom with Sweet & Sour Sauce
£5.00
Chicken with Ginger & Spring Onion
£5.00
Chicken with Mixed Vegetables
£5.00
Chicken with Bamboo Shoots & Chinese Mushrooms
£5.00
Chicken Ball with Sweet & Sour Sauce
£5.00
Fried Crispy Chicken in Satay Sauce
£5.00
Fried Crispy Chicken in Lemon Sauce
£5.00
Fried Crispy Chicken in Hot & Spicy Sauce
£5.00
Crispy Shredded Beef in Salt & Chilli (Dry)
£5.00
Crispy Shredded Beef in Salt & Chilli
£5.00
Beef & Chilli with Black Bean Sauce
£5.00
Beef with Hot Chilli Sauce
£5.00
Beef with Ginger & Spring Onion
£5.00
Beef with Bamboo Shoots & Chinese Mushrooms
£5.00
Duck & Vegetables with Plum Sauce
£5.50
Duck & Vegetables with Hoisin Sauce
£5.50
Duck & Vegetables with Oyster Sauce
£5.50
Duck & Vegetables with Sweet & Sour Sauce
£5.50
Duck & Vegetables with Ginger & Spring Onion
£5.50
Duck with Bamboo Shoots & Chinese Mushrooms
£5.50
King Prawn with Bamboo Shoots & Chinese
Mushrooms
£6.50
King Prawn & Vegetables with Sweet Chilli Sauce
£6.50
King Prawn & Vegetables with Garlic Sauce
£6.50
King Prawn & Vegetables with Oyster Sauce
£6.50
King Prawn & Vegetables with Sweet & Sour Sauce
£6.50
King Prawn & Vegetables with Ginger & Spring
Onion
£6.50
King Prawn & Vegetables with Mushrooms
£6.50
King Prawn & Vegetables with Broccoli
£6.50
Seafood with Ginger & Spring Onion
£6.50
Seafood & Mixed Vegetables
£6.50
Thai Green Curry with Chicken
£6.50
Thai Green Curry with Beef
£6.50
Thai Green Curry with King Prawn
£6.90
Thai Green Curry with Duck
£6.50
Thai Red Curry with Chicken
£6.50
Thai Red Curry with King Prawn
£6.90
Thai Panang Curry with Chicken
£6.50
Thai Panang Curry with Beef
£6.50
Thai Panang Curry with King Prawn
£6.90
Thai Panang Curry with Duck
£6.50
Thai Kaeng Pa Curry with Chicken
£6.50
Thai Kaeng Pa Curry with Beef
£6.50
Thai Kaeng Pa Curry with King Prawn
£6.90
Thai Kaeng Pa Curry with Duck
£6.50
Gai Pad Gratiem Prik Thai with Chicken
Thai style-fry with fish, oyster & soy sauce
£6.50
Gai Pad Gratiem Prik Thai with Beef
£6.50
Gai Pad Gratiem Prik Thai with King Prawn
£6.90
Gai Pad Gratiem Prik Thai with Duck
£6.50
Pad Nam Mun Hoi with Chicken
Thai style stir-fry with oyster sauce
£6.50
Pad Nam Mun Hoi with Beef
£6.50
Pad Nam Mun Hoi with King Prawn
£6.90
Pad Nam Mun Hoi with Duck
£6.50
Pad Krawpow with Chicken
Thai style stir-fry with minced tofu & mint
£6.50
Pad Krawpow with King Prawn
£6.90
Pad Priew Wan with Chicken
Thai style stir-fry with sweet & sour sauce
£6.50
Pad Priew Wan with King Prawn
£6.90
Tofu & Mixed Vegetables in Black Bean Sauce
£5.00
Tofu & Mixed Vegetables in Sweet & Sour Sauce
£5.00
Tofu & Mixed Vegetables in Hot Chilli Sauce
£5.00
Stir Fried Sesame Broccoli & Vegetables
£5.00
Chicken & Broccoli with Black Bean Sauce
£5.00
Chicken & Broccoli with Sweet & Sour Sauce
£5.00
Beef with Bamboo Shoots & Chinese Mushrooms
£5.00
Thai Green Curry with Vegetables & Tofu
£5.00
Thai Green Curry with Chicken
£5.00
Thai Green Curry with Beef
£5.00
Pad Krawpow with Chicken
Thai style stir-fry with minced tofu & mint
£5.00
Pad Krawpow with Vegetables & Tofu
£5.00
Pad Nam Mun Hoi with Chicken
Thai style stir-fry with oyster sauce
£5.00
Pad Nam Mun Hoi with Beef
£5.00
Duck & Vegetables with Hoisin Sauce
£5.00
Crab Meat & Sweetcorn Soup
£3.00
Mushroom & Tofu Tom Yum Soup
£3.00
Pad Thai with Tofu & Vegetables
£5.50
Pad Thai with King Prawns
£6.50
Pad Mee with Tofu & Vegetables
£5.50
Khao Ob Kati
Steamed coconut rice
£2.50
Khao Pad with King Prawns
£6.50
Tofu & Mixed Vegetables in Black Bean Sauce
£4.00
Tofu & Mixed Vegetables in Sweet & Sour Sauce
£4.00
Tofu & Mixed Vegetables in Hot Chilli Sauce
£4.00
Tofu & Mixed Vegetables in Satay Sauce
£4.00
Stir Fried Sesame Broccoli & Vegetables
£4.00
Yaki Soba with Vegetables With Spice
£6.00
Yaki Soba with Vegetables Without Spice
£6.00
Yaki Soba with Chicken With Spice
£6.50
Yaki Soba with Chicken Without Spice
£6.50
Yaki Soba with Beef With Spice
£6.50
Yaki Soba with Beef Without Spice
£6.50
Yaki Soba with King Prawns With Spice
£6.90
Yaki Soba with King Prawns Without Spice
£6.90
Yaki Soba with Seafood With Spice
£6.90
Yaki Soba with Seafood Without Spice
£6.90
Yaki Udon with Vegetables With Spice
£6.00
Yaki Udon with Vegetables Without Spice
£6.00
Yaki Udon with Chicken With Spice
£6.50
Yaki Udon with Chicken Without Spice
£6.50
Yaki Udon with Beef With Spice
£6.50
Yaki Udon with Beef Without Spice
£6.50
Yaki Udon with King Prawns With Spice
£6.90
Yaki Udon with King Prawns Without Spice
£6.90
Yaki Udon with Seafood With Spice
£6.90
Yaki Udon with Seafood Without Spice
£6.90
Teriyaki Chicken with Noodles
£6.50
Teriyaki Beef with Noodles
£6.50
Mixed Vegetable Chow Mein
£4.50
Mixed Vegetable Singapore Chow Mein
£5.00
Singapore Chow Mein with Chicken
£5.50
Singapore Chow Mein with Prawns
£5.80
Singapore Chow Mein with Beef
£5.80
Singapore Fried Rice
Chicken & prawn
£5.80
Mixed Vegetable Fried Rice
£5.00
Mixed Vegetable & Tofu Fried Rice
£5.50
Spicy Thai Prawn Crackers
£1.50
Large Duck Spring Rolls (2)
£3.80
Large Chicken Spring Rolls (2)
£3.80
Mini Vegetable Spring Rolls (10)
£2.50
Sesame Prawn on Toast (6)
£3.50
Grilled Chicken Dumplings with Ginger Sauce (6)
£3.80
Satay Gai (4)
Marinated chicken strips skewered served with satay sauce
£4.00
Tao Hoo Tod
Crispy bean curd served with sweet chilli & ground peanut sauce
£3.50
Spicy Thai Fish Cakes (4)
£3.50
Pla Muk Tod
Thai style calamari served with sweet chilli & sour sauce
£3.50
Gai Tod
Deep fried marinated chicken served with chilli & tamarind sauce
£3.50
Salt & Chilli King Prawns
£4.50
Crispy Duck Pancake Rolls (2)
£3.80
Crispy Chicken Pancake Rolls (2)
£3.80
Vegetable & Tofu Pancake Rolls (2)
£3.50
Teriyaki Chicken Skewers (4)
£3.80
Tofu & Vegetable Skewers (4)
£3.50
Seafood Kushi Katsu
Marinated seafood skewers deep fried in breadcrumbs served with teriyaki sauce
£4.50
Yakitori Chicken Skewers (4)
£3.80
Yakitori Tofu & Vegetable Skewers (4)
£3.00
Crispy Aromatic Duck Quarter (6 Pancakes)
Served with hoisin sauce, cucumber & spring onion
£7.00
Crispy Aromatic Duck Half (12 Pancakes)
Served with hoisin sauce, cucumber & spring onion
£13.00
Crispy Aromatic Duck Whole (24 Pancakes)
Served with hoisin sauce, cucumber & spring onion
£24.00
Yum Talay
Authentic Thai seafood salad with onion, chillies, garlic & lime dressing
£5.50
Phla Pla Muek
Authentic Thai squid salad with chilli & lemongrass
£5.00
Larb Gai
Minced chicken marinated with herbs, lime juice & chilli
£5.00
Nuea Yang
Marinated beef served with herbs, spice, lime juice, chillies, garlic & spring onion
£5.50
Sweet Chilli & Sesame Beef Salad
£5.50
Tofu & Sesame Salad
Deep fried tofu salad served with sesame dressing
£4.50
Tori Katsu Don with Chicken
Deep fried chicken fillet in breadcrumbs garnished with leeks, onions, mushrooms & egg sauce
£6.50
Gyu Don with Beef
Slices of beef garnished with leeks, onions, mushrooms & egg sauce
£6.50
Teriyaki Chicken with Sushi Rice
£6.50
Teriyaki Beef with Sushi Rice
£6.50
Contact Us
Find Us
166 West Hendon Broadway, London, NW97AA
We deliver to
HA8, NW2, NW4, NW9